Appointed by Porsche Motorsport of Germany, EKS Motorsports has been the Official Technical Service Provider for the Porsche Carrera Cup Asia Championship for the last 15 years from 2003 to the current 2017 season. Porsche AG of Germany appointed EKS Motorsports as the official Gearbox Service Provider since 2016. EKS Motorsports has also been appointed as the official Spare Parts Support for Porsche GT cars in Asia since 2017.
The Malaysian company provides Porsche-trained mechanics and the full and comprehensive technical support to all teams and drivers competing in the Porsche Carrera Cup Asia championship, ensuring that the race cars are race-prepared, set-up, maintained or repaired for a weekend of racing.
All Porsche GT3 Cup vehicles are strictly-prepared in accordance with the technical and safety rules and regulations governed under the Porsche Carrera Cup Asia Championship.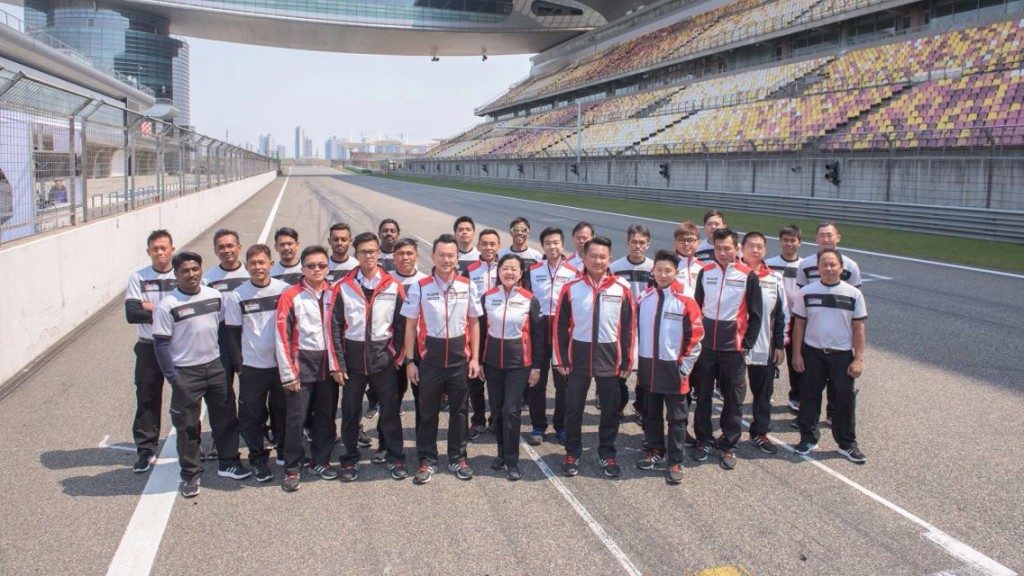 Established in 1990, the company's high degree of professionalism, vast experience, sound technical competency and valuable networking have been built on a successful motor-racing career spanning over the last 20 over years. This has seen EKS Motorsports evolve from a championship-winning racing team to providing team management and technical consultancy for various disciplines in motor-racing.
EKS Motorsports has established itself as one of the most successful racing teams in Asia, winning five Southeast Asian Touring Car Championships, and becoming the only team to win the driver's, manufacturer's and team championship titles for three consecutive years from 1997-1999. EKS Motorsports also clinched the Porsche Asian Challenge Series titles in 1999, 2000 and 2001. In 2007 and 2008, the company was appointed as a Technical Consultant to supervise the building and preparation of race cars belonging to the Honda Racing Team in Malaysia which went on to finish second and third overall and securing the top two positions in class in the 12-hour Malaysian Merdeka Millennium Endurance Race. EKS Motorsports is also running 4 Porsche Cayman GT4 in the Blancpain GT Series Asia for the 2017 season.
Today, as a Technical Service Provider for the Porsche Carrera Cup Asia Championship, EKS Motorsports provides participating teams and drivers with a myriad and comprehensive range of services, from overseeing vehicle transportation to and from the race venue, vehicle preparation, set-up, maintenance and repairs, gearbox rebuilt, to cater to the order, sale, storage and delivery of spare parts, equipment and consumable items.
Race Technical support & consultancy – vehicle preparation, set-up, maintenance & repairs
Team/driver management
Porsche GT cars gearbox rebuilt specialist
Porsche GT cars spare parts support specialist
Safety inspection and quality control (daily 30-point safety check for race car)
On-track accident repairs and painting
Arrangement of vehicle decals
Ordering, storage, sales and delivery of spare parts, equipment and consumable items
Pit set-up
Loading & unloading of vehicles, spare parts & equipment
Assisting with Customs clearance and inspection
On-track availability of special tools and equipment (camber gauges, corner-weight scales, alignment tools)
EKS Motorsports' mechanics and supervisors comprise of Porsche-trained technical personnel with between 5 to 20 years of experience in various disciplines of motor-racing.
Our highly experienced technical crew members come from Malaysia, Thailand, the Philippines and Hong Kong and are also conversant in five languages – Mandarin, English, Bahasa Malaysia, Thai and Tagalog.